my more creative work
I love Creative Photography.
This gallery contains two kinds of images - those which are the product of manipulation to gain the exact effect I seek.
Others are best described as subjective, viewed from a slightly more obscure perspective.
I think you'll see what I mean . . .
Final Destination
Final Destination
The story behind the image.
I was initially introduced to the owners of this Austin 7 back in December.
John and Lyn invited me to view their farm after seeing my image 'An Old Friend' at the Barewall Gallery in Burslem.
I called in February to look at their tractor when I discovered the Mini. I returned in March to spend the day moving a giant pile of timber and other paraphernalia, which was covering the car. After hours of hard work I was filthy and exhausted, but ready to take my camera out of the bag!
I used props from all around the farm (returning them after).
Hours spent in Photoshop and then at the printer delivered the final result, but only after the 7th test print.
Studio/location shoot.
ƒ/14 • 0.8sec (various) • ISO100 • 17-40mm lens • focal length 17mm • tripod • studio lighting • HDR •
Location: Little Sugnall, Staffordshire
Here Kitty Kitty
Maybe I should just let your imagination get to work on this photomontage. What is behind that buttress?
ISO640 • 14mm • ƒ/8 • 1/30sec • photomontage
Location: London
Running Up That Hill
The Story:
It all kicked off with a late October rainy day in Dorset.
I was driving a car packed with fellow photographers to Beer, passing through Seaton when I spotted this triptych of wind swept trees. I was the only person to get out of the car and take a snap with a very long lens.
This image haunted me for ages, until I had a dream about what it could look like.
Several days and test prints the image was ready.
Various contributing elements:
• The hill was the starting block, with a slight downward transformation
on the righthand side.
• The texture on the hillside was from seaweed wrapped around a boulder
in the Aird of Sleat on the Isle of Skye.
• The silhouettes of mother & daughter chasing their hound was taken at Crosby beach. Land of the Iron Men statues.
• The sky texture came from the Athabasca Ice-field in Alberta, Canada.
I knew it would come in handy one day!
• I found the Moon in my back garden one night and rotated it slightly.
I'm very strong.
• The use of tonal lighting adjustments gave the overall emotional spark.
I wanted the main source of light to look as if it was coming from behind the hill.
Hey presto, there you have it 'Running Up That Hill'!
and now she has a sister image called 'Spellbound'.
I only produce this photomontage on heavy acid free art textured paper using Epson pigment inks, each limited edition is titled and signed.
It is turning out to have quite a fan base with several happy owners!
Main image f/5.6 • 1/800sec • ISO400 • 400mm focal length
no tripod • no wellies • and a camera!
Location: Dorset, Corby, Alberta, St Ives, and my back garden!
Settings various • photomontage
An Old Friend
If an opportunity offers itself to you, grab it with both hands. Of course, there are people who don't like old rusty artefacts!
I was supposed to be shooting the farmer's attractive young doughter in the upstairs barn, but instead I found myself in a tool shed with An Old Friend!
f/18 • 13secs • ISO50 • focal length 20mm • tripod • multiple off-camera flash
Location: A farm Nr. Eccleshall, Staffordshire.
Winter Solace
I worked on this photomontage for ages, printing onto PermaJet 'Parchment' textured art paper several times before I was completely happy. Although a winter scene, I see a touch of optimism and cheer in the remaining colour on the tree.
f/16 • 1/200sec • ISO200 • 100mm • photomontage
Location: Various, Staffordshire
Redundant
Sister image to 'An Old Friend'.
This still life was illuminated from discoloured corrugated roof windows which cast this slightly orange hue.
f/18 • 8secs • ISO100 • 45mm • tripod • natural ambient light
Location: A farm Nr. Eccleshall, Staffordshire.
Spellbound
The dream:
It's all about a little girl who comes across a magical wind swept tree by an old disused slate mine near Rhyd-Ddu in Snowdonia.
It casts a spell which protects her from any ill fortune.
Various elements:
• The tree was photographed on a hillside slope in Snowdonia. Why, well I liked the way the tree had been shaped by the prevailing wind. I did not appreciate the mountain backdrop until composing the work.
• The girl was playing on a beach in Worthing. I'm always collecting people to use later in my compositions - doesn't everyone?
• The birds were innocently flying over Mousehole in Cornwall, but now rearranged.
• The roots are actually from an exposed hedge core taken by the Lakeside Theatre in Keswick, Cumbria.
• I can nearly always find a moon in my back garden, but the rest of the stars had to be imported from the far corners of our galaxy.
• The overlay swirls in the sky are ice patterns found in a puddle.
• My wife and I had a debate about the rock the girl is standing on. I decided to keep it in for two reasons. Firstly it was actually there, and secondly, I thought the girl needed a lift to to more prominent in the composition.
So, there we have it, 'Spellbound'.
I hope you enjoy it without needing to analyse it too much.
I only produce this photomontage on heavy, acid free, art textured paper using Epson pigment inks, each limited edition is titled and signed.
Main image f/6.3 1/500sec 250mm ISO400 ND filters & walking boots
Location: Rhyd-Ddu in Snowdonia.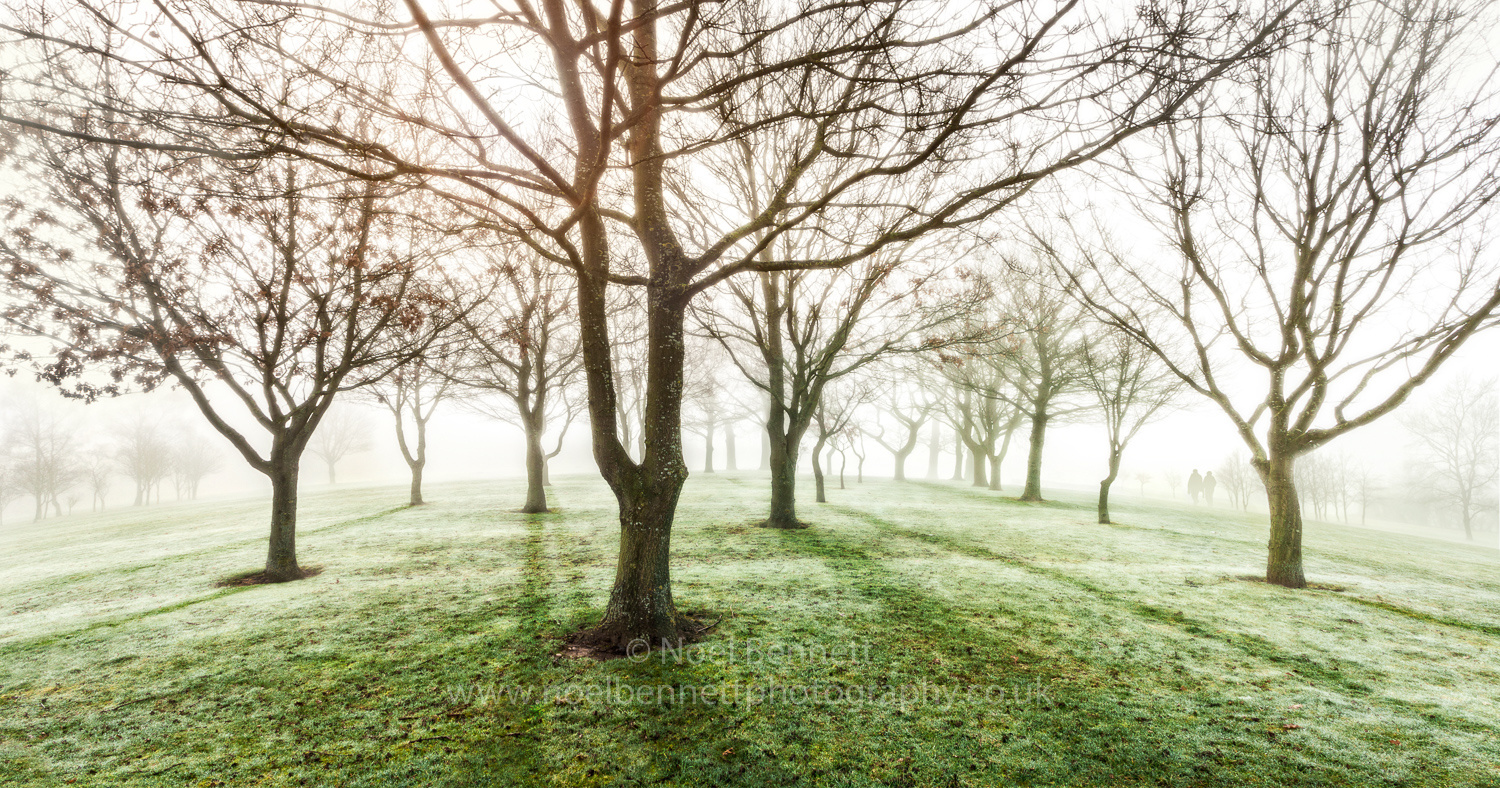 Silence
Mist and fog have been in short supply this year, especially with the sun cutting through!. So when I spotted the potential on the forecast I was up and on my way to the local golf course - not to play golf!!
The beauty about trees on golf courses is you can isolate them so well. The mist takes any distractions out of the background too.
f/18 • 1/800sec • ISO100 • 17mm focal length • 17-40mmL • tripod • boots
Location: Stone Golf Club,Staffordshire
Double Take!
My wife Christina Bennett paints in pastels and Tiger, here, was next on the board. I took the reference photos of which this one was not to be used because of its unusual pose.
I had an idea - fortunately the shadow was taken on that same morning.
ƒf/8 • 1/100sec • ISO1000 • focal length 44mm • hand-held
Location: Chebsey, Staffordshire
Attitude
Put a studio model shoot and an environmental interior together and you might be able to make statement.
ISO200 • 24mm • ƒ/8 • 1/80sec • photomontage
Location: Rugeley, Staffordshire and Newcastle upon Tyne!
Sarah's Tragedy
Do you remember the film 'The French Lieutenant's Woman', filmed on and around the Cobb at Lyme Regis? This photomontage is titled 'Sarah's Tragedy' (from the book).
4 Images contribute to the final work. Meryl Streep not included!
Main image: f/10 • 1/4sec • ISO200 • focal length 24mm • tripod • Lee ND Filters • wellies
Pride & Joy
It was an important assignment, to capture the treasured car, with its proud owner, on the forecourt of a period 1960's garage - sorted!
A little post production tint and we were done.
ISO50 • 35mm • ƒ/18 • 1/5sec • bracketed exposure • tripod
Location: Swynnerton, Staffordshire
Winter Surprise
Here is the result of another look at the frost covered narrow boats on the Trent and Mersey Canal.
I set up my 100-400mm lens on the old tripod to take this shot. The lens can be beautifully sharp and does a good job of throwing the background out of focus. No stress this time, the mallard wasn't going anywhere!
Now a winner at 3 Counties Open Photography Exhibition
Location: Trent & Mersey Canal, Stone, Staff's
Imagine Peace
Taken inside Litchfield Cathedral. They were celebrating 100 years after the declaration of peace was signed in France back in 1918. Very thought provoking indeed. Lest we forget.
The laser lighting presentation was amazing, set against the gothic architecture.
ISO1100 • 14mm • ƒ/2.8 • 1/40sec • steady hand
Location: Litchfield Cathedral, Staffordshire
The Temptress
Ellie posed as the seductress in this implied nude pose - nothing too shocking you understand.
ISO200 • 45mm • ƒ/9 • 1/100sec • studio lights • photomontage
Location: Locations in Staffordshire & Cornwall!
Fairground Reflection
I always try to look at things from a different perspective. This Ferris Wheel in a puddle is a good example! People walking by as I set up my tripod must have thought I'd 'lost the plot!'
Winner at Staffordshire Open Art and finalist in Royal Photo' Society 365 competition
ISO100 • 24mm • ƒ/20 • 1/4sec • bracketed exposure • tripod
Location: Trentham, Stoke-on-Trent, Staffordshire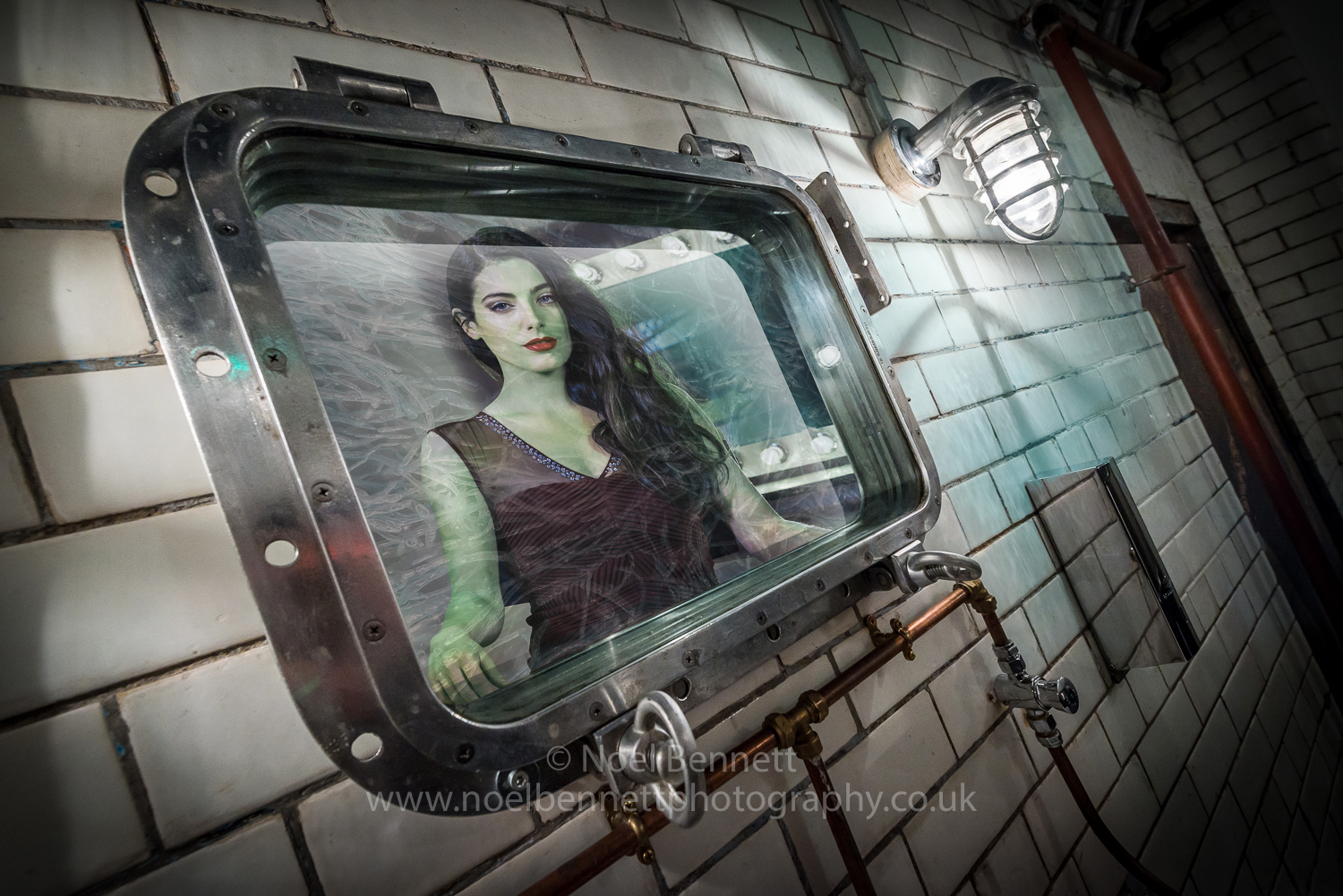 The Washroom
I have a collection of toilet shots. Don't ask me why.
Maybe one day they will come and arrest me!
This one was taken at my son's 21st birthday treat out.
Photomontage.
ISO640 • 14mm • ƒ/8 • 1/30sec • hand-held
Location: Manchester
Stairway To Heaven
I was one of a group of artists to be dinning here. I we were waiting to be served i set off to explore, as I usually do. This is what I found . . .
ISO200 • 105mm • ƒ/18 • 1/10sec • hand-held in mixed lighting
Location: Armadale Castle, Skye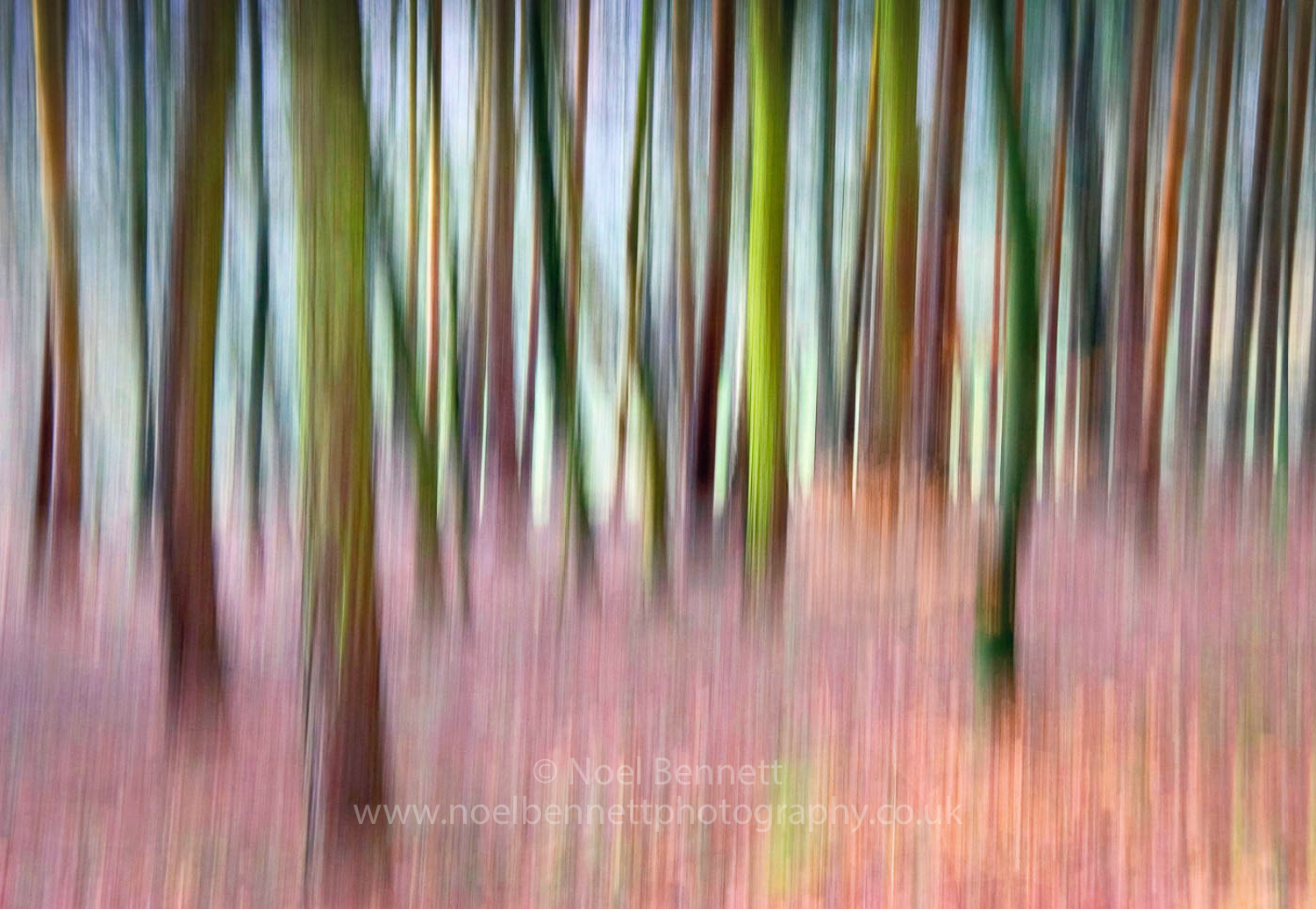 Autumn Colours
This is another successful image - hand held while tilted on a slow shutter helped me achieve this effect. I have seen this technique tried before but not with the same pleasing result in the colours.
TESTIMONIAL:
Here is what one of my customers had to say:
Dear Noel,
We were in Huddersfield today and wandered from the Blue Room into your gallery. Once there we were captivated by your photography – especially 'Autumn Colours' - which we first bought as a card then the print so we could have it framed. It is just the picture we have been looking for. We have also looked at your website and the equally fabulous pictures there. So really, just wanted to say thanks very much for making our day.
Tim & Lesley
SO100 • 35mm • ƒ/8 • 1/10sec • hand-held camera lift
Location: Stone, Staffordshire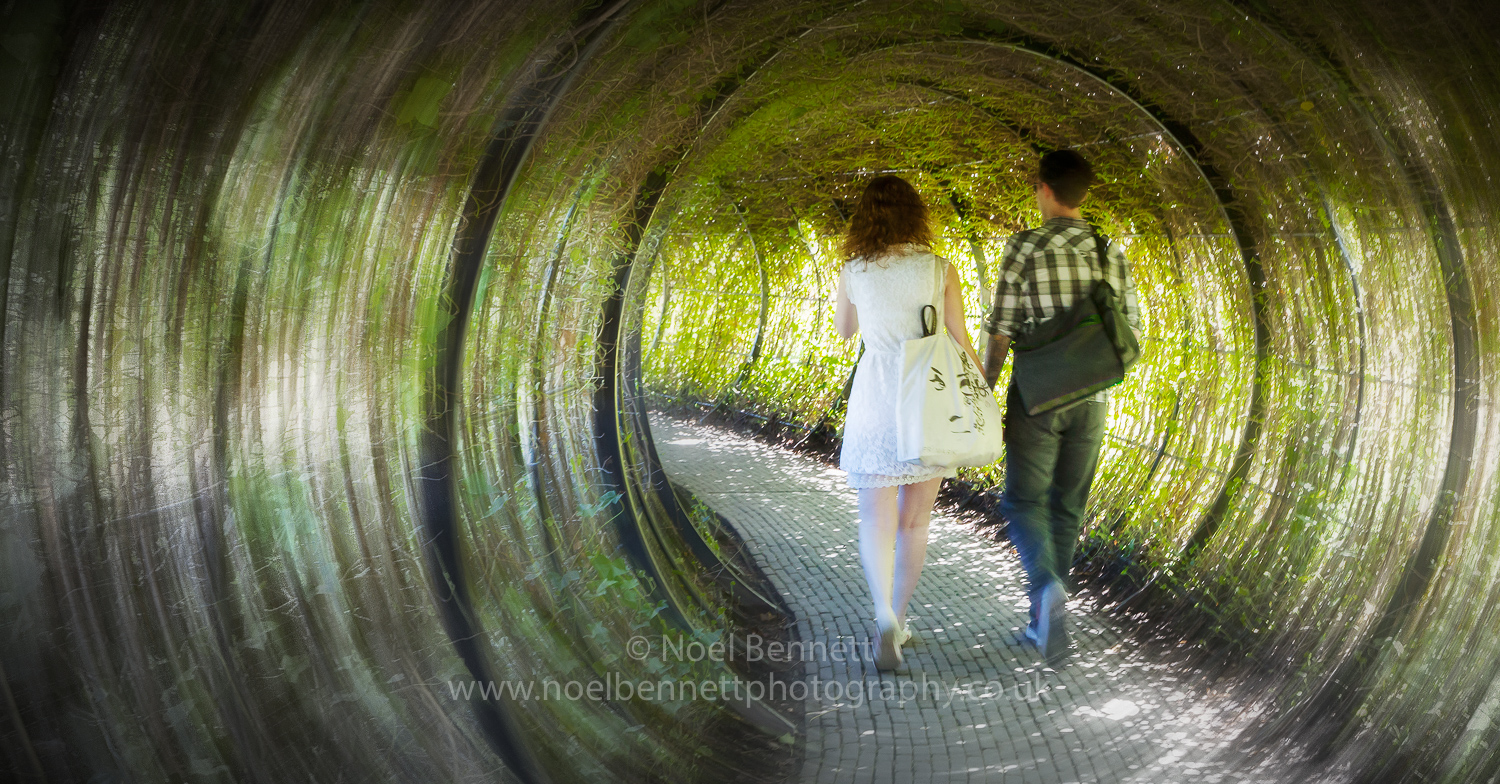 Tunnel Of Love
We tour many gardens when time allows.
I spotted these young lovers walking through this laburnum arch and snapped away.
SO800 • 34mm • ƒ/10 • 1/25sec • with a quick spin of the camera body
Location: Alnwick Castle Gardens, Northumberland
One Way
I wanted to take this photograph before the house was decorated and the sign replaced. I'm so sad I've photographed this frontage countless times. What is wrong with me?
ISO50 • 23mm • ƒ/18 • 1/4sec • bracketed exposure • tripod
Location: Stone Ring Road, Staffordshire
The Work Horse
It is not just about a portrait of a tractor. The environment is also important, helping to express the narrative. I love looking at the boats and buildings just as much. I used selective colour and texture enhancement to set the mood.
ISO200 • 22mm • ƒ/16 • 1/80sec • bracketed exposure • hand-held
Location: Boulmer, Northumberland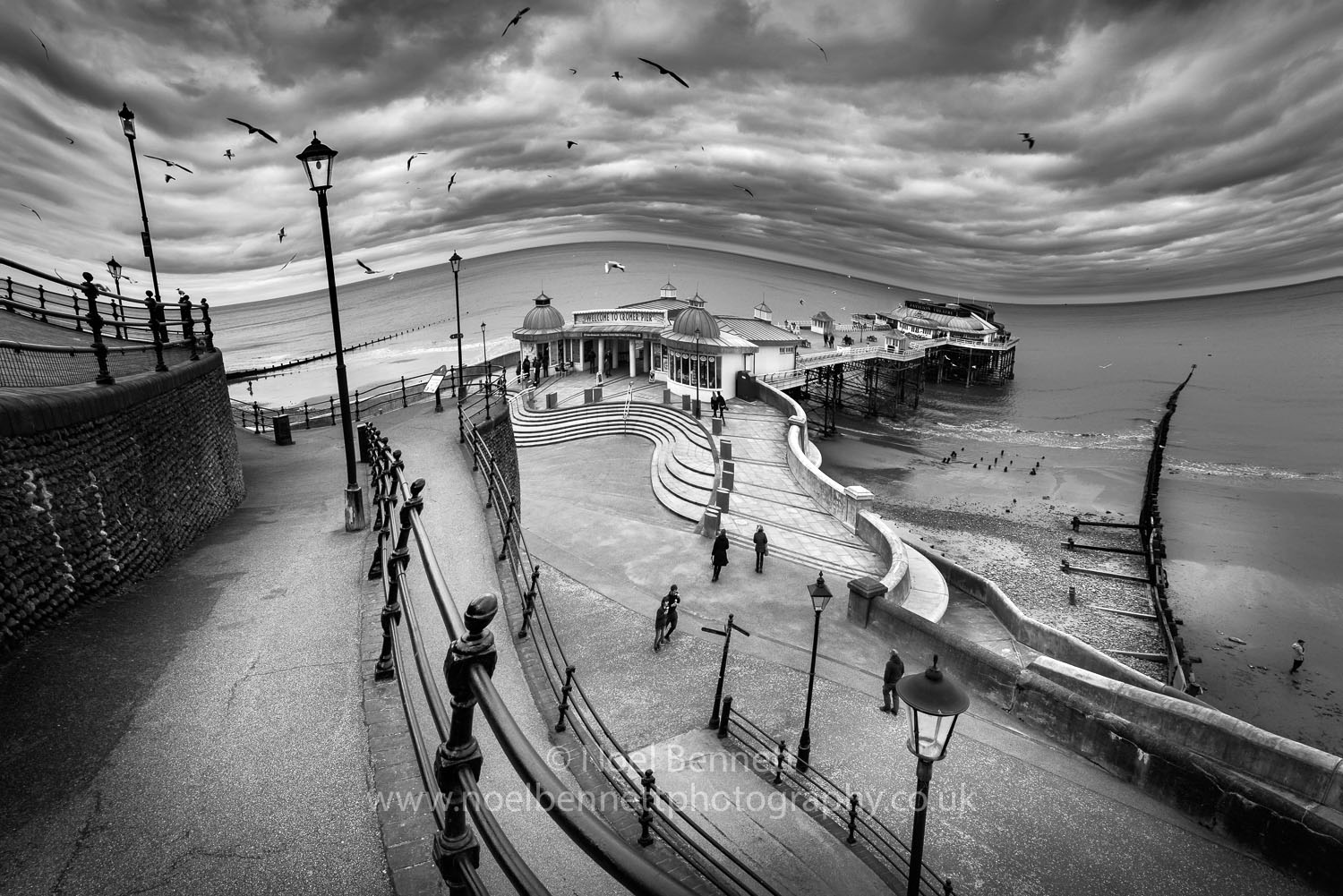 Cromer Pier
Yes that's right Cromer Pier, but with a twist!
ISO200 • 105mm • ƒ/18 • 1/10sec • bracketed exposure • tripod • wellies
Location: Cromer, Norfolk
Clocking Off
Deep in a corner of Anna's farm.
I thought this might make a great retirement print or greetings card. I wonder why it stopped at lunchtime?
ISO100 • 65mm • ƒ/20 • 10secs • bracketed exposure • tripod
Location: Slindon, Staffordshire
Mixed Grill
There is just something about vintage car grills?
Doesn't matter if it's a Jaguar, Austin Healey or Morgan. As a sad collector of grills, I thought I should create something with them.
This panel won me 2011-12 1st place in our clubs annual digital, 3 of a kind competition!
Camera settings various
Location: Cornwall